Clear Law Solicitors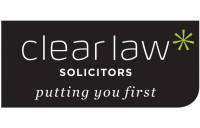 Clear Law Solicitors
Old Trafford
Money Matters

Dealing with financial matters can be incredibly complex, requiring the involvement of a specialist legal service provider.
Business Disputes

Commercial litigation specialists provide legal services to businesses in dispute with other parties.

Business Employment

Ensuring a business complies with employment law or properly handles any employment dispute is fundamentally important and highly complex.
Opening hours
Mon

–

Tue

–

Wed

–

Thu

–

Fri

–

Sat

Closed

Sun

Closed
Attributes
- Female Practitioners
- Home visits
- Male Practitioners
- Open after 5pm
Languages
- English
- Polish
- Urdu
Address
Clear Law Solicitors LLP
Atherton House, 88-92 Talbot Road, Old Trafford
Manchester
Greater Manchester
M16 0GS
Old Trafford

Clear Law Solicitors LLP
Atherton House, 88-92 Talbot Road, Old Trafford
Manchester
Greater Manchester
M16 0GS

See details