Hayden Solicitors Limited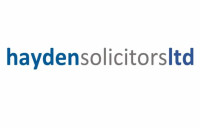 Hayden Solicitors Limited
Haslingden, Rossendale
Family

Family law specialises in relationships including financial provision and arrangements for children, such as divorce, child contact and pre-marital agreements.

Wills & Probate

Wills and probate is about organising and dealing with someone's affairs, property and belongings before and after their death.

Property

Property law covers all matters relating to the ownership or use of land and real estate.

Disputes

Dispute law is about the resolution of common conflicts or issues that occur in everyday life including financial matters or disputes with others.
Business Employment

Ensuring a business complies with employment law or properly handles any employment dispute is fundamentally important and highly complex.

Business Disputes

Commercial litigation specialists provide legal services to businesses in dispute with other parties.

Business Services

Commercial lawyers assist businesses with everything from company formations to patents and trade marks.

Business Property

Business property law deals with the ownership and rights over commercial property.
Opening hours
Mon

–

Tue

–

Wed

–

Thu

–

Fri

–

Sat

Closed

Sun

Closed
Attributes
- Female Practitioners
- Home visits
- Male Practitioners
Address
Suite 22
Link 655 Business Centre
Rossendale
Lancashire
BB4 5HU