When you pass away, you need someone to manage your estate – which includes your home, your possessions, and money.
If you have a will, this person is called the executor.
If you die without a will, this person is called the administrator.
An executor's power is effective the instant the person who made the will dies. An administrator's power only comes
after
being granted letters of administration. Because this delay can lead to long periods of uncertainty, it's one of the main reasons why writing a will is so important: giving your loved ones security when you're gone.
While they have broadly similar duties, there are differences between an executor and an administrator.
What does an executor do?
An executor has the task of fulfilling the wishes of the will. You can name up to four executors, and you should include at least two.
The role carries a lot of responsibilities. If you're thinking about writing your will, it's important to choose an executor that is:
Responsible
Organised
Trustworthy
When a person dies, they must apply for a
grant of probate
(although in some circumstances, family members with a strong claim to inheritance can also apply).
Once probate is complete, the executor will now hold the legal right to 'collect' the estate, pay any taxes and debts, and distribute according to the instructions in the will.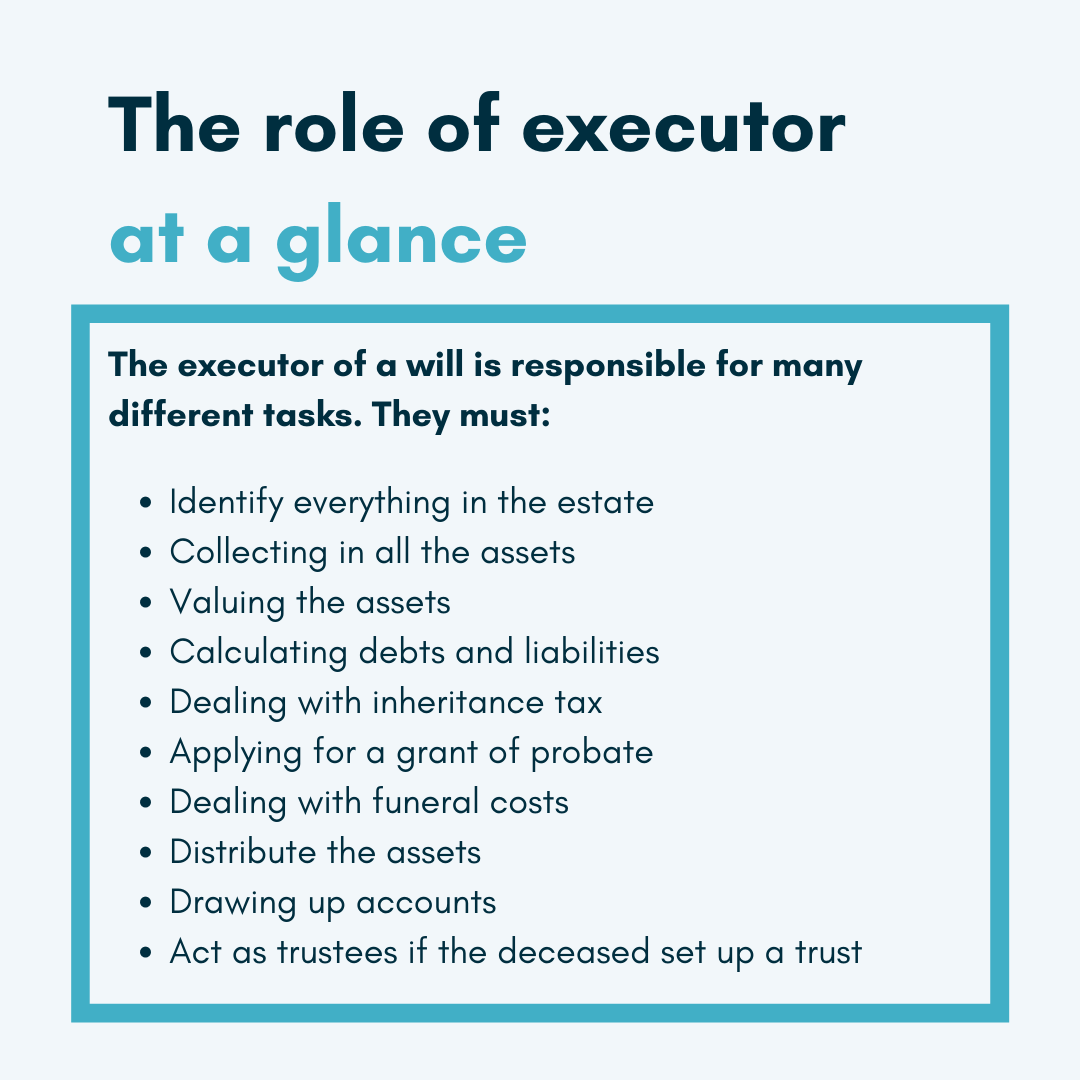 What does an administrator do?
If someone passes away and there's no will, it's known as
'dying intestate'
– and it leaves no clear 'manager' of the estate.
It's up to a loved one to apply to the Probate Registry for a grant of letters of administration. This works like a grant of probate, giving someone the legal right to handle the deceased's estate.
Should more than one member of the family apply for letters of administration, the authorities tend to grant it based on the rules of intestacy.
This is the biggest difference between the executor and the administrator of a will.
Without a will, there's no way to legally determine what the deceased's wishes might be. So, the rules of intestacy dictate who can inherit – and it's very restrictive. These are based on the relationship between the deceased and the surviving beneficiaries.
Some relationships, such as long-term partners and step-children, are not provided for under intestacy.
When you're married or in a civil partnership, your partner inherits your estate
When you're married or in a civil partnership, and have children, your partner inherits all possessions and the estate up to a value of £270,000. Half the remaining estate is divided equally among children.
When there's no surviving partner or children, the line of inheritance is: parents, siblings, nieces and nephews, grandparents, aunts and uncles, the Crown.
An administrator must strictly follow the rules of intestacy. The courts will be watching, and an administrator's actions can be challenged by others if it's believed they're not acting responsibly.
How do you apply for grant of representation?
Grant of probate and letters of administration are both a type of
'grant of representation'
. They can be applied for from the Probate Registry. This can be done online, by post, or through a legal professional.
And remember, an executor must also supply an original copy of the will.
Depending on the size of the estate, anyone applying for probate may also have to pay a fee. Obtaining a grant of representation won't always be a necessary step. Lower-value estates tend to be exempt, as are assets jointly owned assets. But it's best to double-check this with a solicitor.
You may also decide you don't want to act as an administrator or executor – even if you have a rightful claim. In this instance, you should let the authorities know, as it will help speed up the process for loved ones relying on the inheritance.
Getting good legal advice
Whether you want to write your will or you need help navigating the complicated world of probate, it might be time to chat to a legal professional.
Tell us what you're looking for and we'll help you find and compare solicitors and will-writers near you – completely free.