Legal services for driving offences
Don't face a motoring offence charge alone.
If you're being charged for driving offences, you could face major fines, penalties, bans, prison, or even lose your licence completely. And when you rely on your motor, that risks impacting your ability to get to work and get around town. Make sure you have the right legal representation to challenge your driving offence charge.
The Law Superstore helps you find motor offence solicitors when you're facing careless & dangerous driving, drink & drug driving, and speeding charges.
What Motor Offences legal area do you need help with?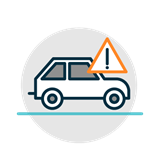 Driving Offences
If you have been charged with a motoring offence it is important to seek legal representation. Driving offences are serious, and without appropriate representation you may be more likely to lose your license, be fined or even serve a prison sentence.
Seek legal advice when charged with careless or dangerous driving.

Seek legal advice when charged for driving under the influence of alcohol or drugs.

Seek legal advice when charged with a speeding offence.